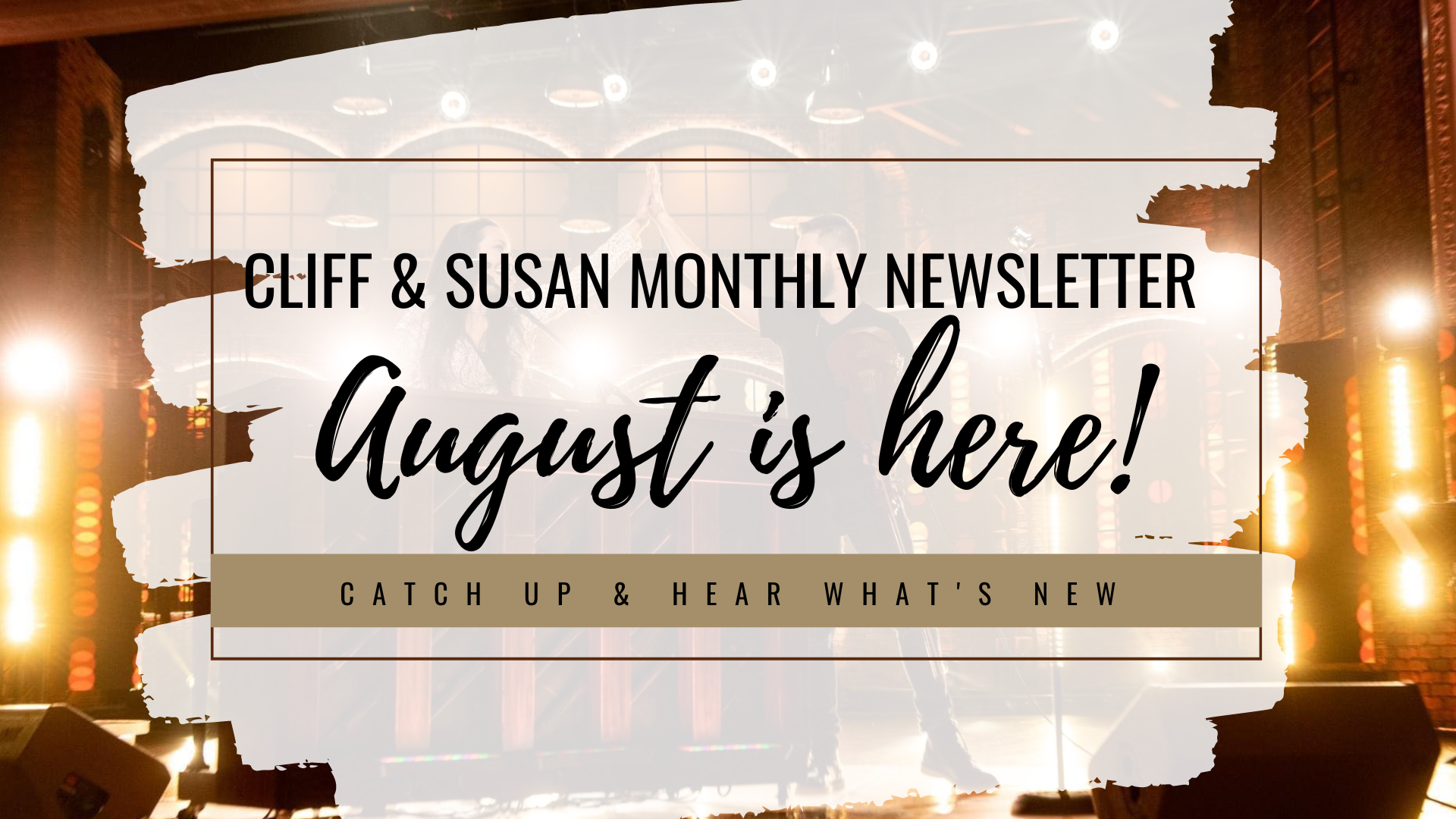 August 3, 2023
Hello, friends! 🤗 

August is here... time for our monthly newsletter. 🗞️ 

We just returned home to Arkansas from performing at The Red Piano all of July in Santa Barbara!  We had 25 fun shows there, learned lots of new songs, and got to see old friends and make new ones! 

So, what next? 

We hit the ground running here in Arkansas with an appearance on TV yesterday, and 3 shows this week.  One of those shows is Cliff playing fiddle with the rising country band - Midnight South. They are opening for Colt Ford at JJ's LIVE tonight. 

Then, we can't wait to see everyone at our Cliff & Susan shows this weekend Aug 4/5 at Oaklawn Casino in Hot Springs, AR. 

Next week, we are announcing a collaboration with the award-winning singer/songwriter, Erin Enderlin, which stemmed from our performance with her at the 2023 Arkansas CMAs.  This will be a 3-song series, and we can't wait to share what we have up our sleeves. 

We are continuing to help other artists in our Entertainers Academy. We have 120 members in there, and are growing! This is where we teach fellow musicians how to have a full-time music career from A to Z. The talent in our group is incredible. Send your musician friends our way! www.entertainersacademy.com 

Do you remember seeing the Piano Ladies Sisterhood & Conference I (Susan) founded and co-organize?  Vegas (2019), Chicago (2022), New Orleans (2023), and Vegas again next year - May 5-8, 2024. We invite you to hang with us in Vegas each night.  Learn more at www.pianoladies.com. 

Cliff's dad just made him a new guitar, so that's super cool. Y'all, it's gorgeous! Pics on socials coming... 🎸 

Plan your November island trip to St. Maarten to see us perform at The Red Piano! 

Many of you have asked us about the Caribbean venue we perform at every November. 

We put together an informational page to help you plan your trip to come see us on the beautiful island of St. Maarten this year! So, click here to learn more about getting your island trip planned. 🏝️  Let's drink a cold one together on the beach! 

Are you following the latest trends in Artifical Intelligence? I'm super passionate about figuring out where we are headed in the world and how this will impact every industry, especially the music business. I started a #CyberSue blog. 🤖 I'm trying to help guide everyone to the latest and how to use it wisely. 

Fun fact: I've combined my passion for this and music business into a TEDx talk that I've created and applied for! Fingers crossed!  For a teaser, read this. 🤓 

As always, we have a lot going on, but when you love what you do, you never work a day in your life. This couldn't be more true. 

We are blessed and thankful for all of you! 

Oh, and we hit a milestone! 👀 Over 500,000 people have watched this video of our performance on National TV. We can't believe it!  

Love and light, 

Susan Erwin Prowse 🎹 
1/2 of "Cliff & Susan" 😀 

P.S. Have you joined our Facebook Cliff & Susan - Private Fan Group? If not, there's so much fun with our community there - join us!