Hello, friends! ☀️
June is here, and we just finished helping organize a 9-day fair, which included the production of our 4th
Yadaloo Music & Arts Festival.
The weather was beautiful, and the show was great. We can't thank those enough who have stood by our side
faithfully
helping produce this event with a mission to always support local independent artists, providing them a stage and platform to grow their music careers right here in Central Arkansas while giving back to our community.
The Pulaski County Fair
went off without a hitch and was safe and fun with record-breaking attendance. 
What next for us?
Next Monday we perform at the Arkansas Country Music Awards and will be performing with our friend and award-winning artist, Erin Enderlin!
We have shows in Arkansas this June (see schedule below). 
We head to Santa Barbara every July to perform at The Red Piano on State Street. This is a must-visit venue.
Aug, Sept, and Oct we are back in our home state, then head to the Caribbean on the island of St. Maarten all of November. Want to plan a trip to see us?  Click
here
to learn more about the details. We will be your tour guide! 🏝️
Oaklawn Casino has us slated again for our Thoroughbred Racing Season Residency in beautiful Hot Springs, Arkansas. We will be going into our 9th year with them starting in December 2023 through May 2024.
Visit Arkansas. Visit Santa Barbara. Visit St. Maarten.
....and stay tuned for our next release, "A Natural State," co-written by Cliff Prowse and Cory Jackson. We will release late June and can't wait for y'all to hear this one!
❤️ Much love -
Susan
P.S. Cliff is in Panama City Beach today playing fiddle with the incredible Arkansas-based band, Midnight South, at the Gulf Coast Jam Festival. If they make it through the final round of the competition, they will open for Kenny Chesney on Sat., June 3!
P.P.S. We will be doing more original shows with our full band in Fall 2023. Watch for our show announcements on these soon!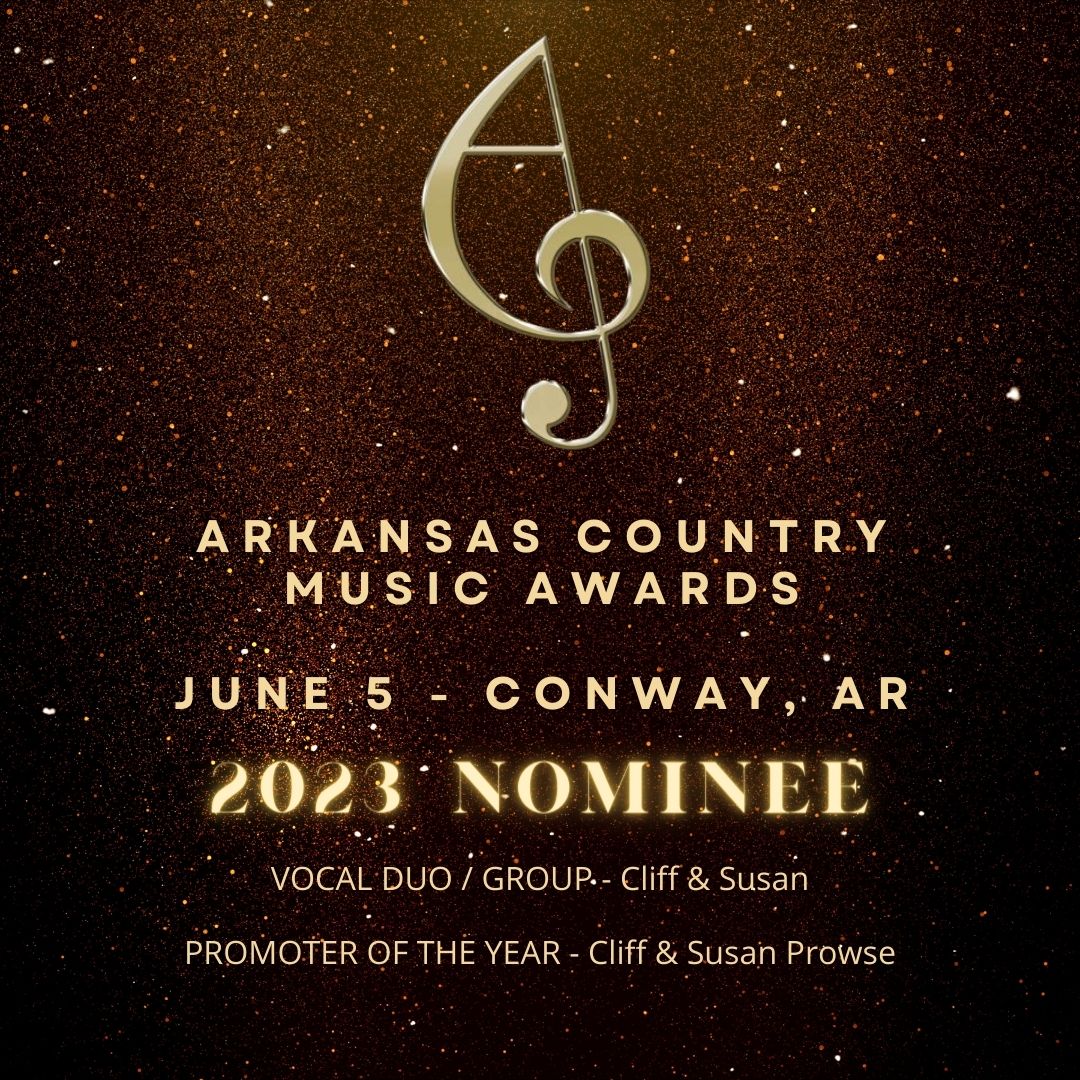 Cliff & Susan - June 2023 Arkansas Shows

Here's our line-up for the upcoming month, mark your calendars!

June 5 - We are attending the Arkansas Country Music Awards in Conway, AR. Excitingly, we will be sharing the stage with the incredible Erin Enderlin and also up for a couple awards!

June 9 - Catch us at Oaklawn Pop's Lounge for an evening of music and fun from 9pm-1am.

June 10 - We're back at Oaklawn Pop's Lounge but this time it's a special night with Dueling Pianos feat. Matt Sammons! 9pm-1am

June 14 - We're booked for a private event at the Oaklawn Conference Center.

June 15 - Don't miss us at Bridge St. LIVE! featuring Cliff & Susan's Pink Piano Show from 7-9pm. We have a great show planned for you!

June 17 - We'll play for the Spa City Bop Club Appreciation Dance at the Barrett Center. Get ready to groove!

June 18 - Join us for an afternoon of good tunes and good times at River Bottom Winery in Roland, AR. 4-6 pm.

June 24 - We're finalizing plans for a show in Russelville, AR. Stay tuned for more details!

We can't wait to see you at these shows. Let's make it a June to remember, Arkansas!

Keep in touch for updates and, as always, thank you for your support.

Have you joined our private fan group? Cliff & Susan - Private Fan Group
---