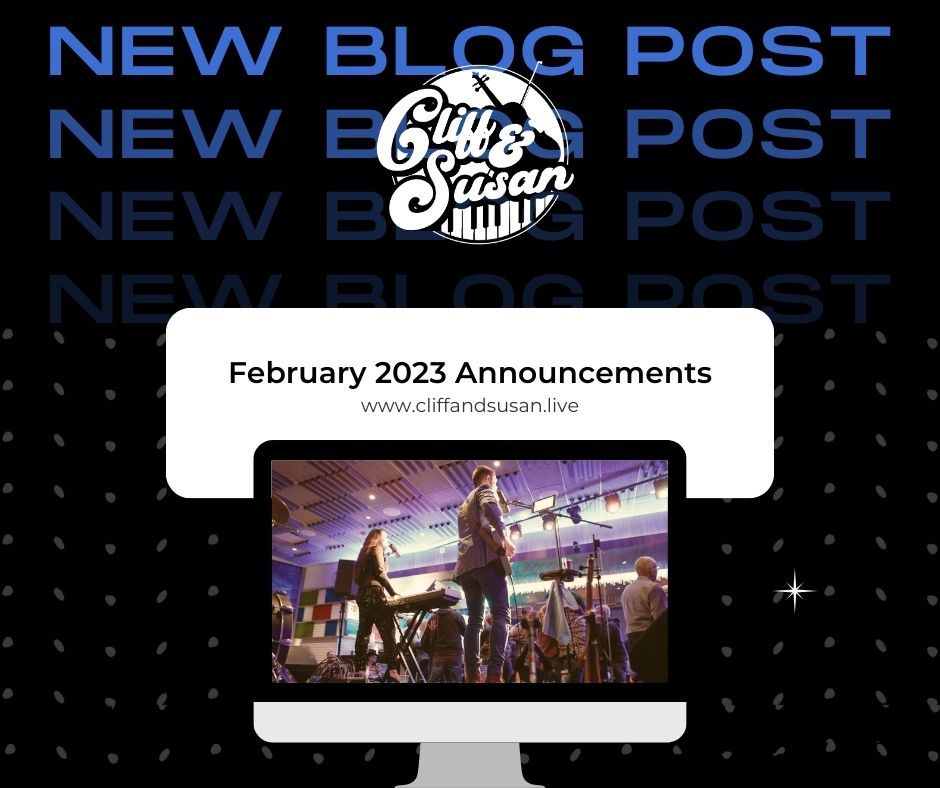 This month, we've got a lot of exciting updates to share with you! 
Show Dates: 
This month we will perform our usual weekend shows at Oaklawn Casino in beautiful Hot Springs, Arkansas. Fridays and Saturdays 4-8 pm in Pop's Lounge. 
 
❤️ Valentine's Day Show ❤️ 8 pm to 12 am at Willy D's Rock & Roll Pianobar, Little Rock, AR 
Latest shows are always updated on our website calendar. 
Song Releases: 🎵 
We are thrilled to announce that the release of our latest single, "Fiddle & Keys," has gained a lot of momentum. It's been picked up by 4 radio stations and gained us international exposure! 
 
Our next release "A Song for Grandad" is dropping on Feb. 24. Cliff wrote this one about his late grandfather and it's been a crowd tear-jerker and highly requested song. 
Music Video Filming: 🎥 
The music video for "Fiddle & Keys" is being filmed this month and we are INVITING YOU TO BE IN THE MUSIC VIDEO! 
DATES / LOCATIONS: 
Wed. February 8 6-8 pm at Willy D's, Little Rock, Arkansas 
Sat. February 25 4-8 pm at Oaklawn Casino, Hot Springs, Arkansas 
Come wearing what you'd wear to one of our shows. Ages 21 & Up. You'll be the crowd we will be performing for in the music video. 
National TV Appearance: 📺 
We will be appearing on a nationally-televised show filmed in Nashville this month. Stay tuned for the official show announcement and mark your calendars to watch on Feb. 25/26. 
Merch Sales: 👕 
Our merchandise store has been updated with new items, including t-shirts, our handmade crystal/copper jewelry, and more. Be sure to check out the new arrivals and show your support for us at www.rainyray.com. 
Entertainers Academy Update: 🎤 
We now have 30 members in our academy and growing! If you or anyone you know want to learn how to make a great living in the music business, send them our way. We host a FREE 5 Day Challenge once a month. It's a great way to jumpstart or reignite a career and get into our ecosystem of fun and learning. 
Visit: www.entertainersacademy.com 
Yadaloo Music & Arts Festival: 🤠 
Our music festival is scheduled for May 27, 2023 on the banks of the Arkansas River in North Little Rock. Since 2019, we have produced an annual fun country time with national and local acts. 
2023 Lineup announcement coming soon. 
Visit: www.yadaloo.com 
Music Production: 🔊 
We are producing songs for Andrew Igbokidi, a talented artist that was on the last season of The Voice. 
 
Bree Ogden is in the studio recording a new single we cowrote with her! 
 
Cliff is continuing his arranging and production on 2 albums for Freedom Sings Arkansas, a nonprofit that pairs veterans with songwriters and through songwriting and song, tells their stories. You should hear the one he produced on the REAL Duke Cunningham "Maverick" from Top Gun. 
... we have several other artists in line to work with Cliff. (I'm so proud of his production work!) 
Visit: www.bigreddogproductions.com 
Piano Ladies Retreat: 🎹 
We've announced our annual retreat for female piano performers! I launched this in Vegas in 2019. We hosted our conference last year in Chicago, and this year it will be May 7-10 in New Orleans! 
Visit: www.pianoladies.com 
Much love, 
Cliff & Susan - Married Music Duo 
P.S. Want to book us for a show? Visit www.bookcliffandsusan.com